This Pre-order is for our steel skid plates. Currently in final phases of prototype. Transmission skid mounting locations are the final revision before complete kits will ship. We expect to be in final phases of production and shipping at the end of 2023. The front, oil pan and LWB fuel tank skids are all worked out. The SWB skids are worked out aside from one mounting hole revision, these fit the V6 and 4 Cylinder 2 door Montero and Raider. Discounted prices last until our product goes onto the shelf, then the retail price becomes active.

The Mitsubishi Montero is not lacking in capability by any means. In most cases the vehicle and driver are capable of getting the vehicle into tougher situations than the body and undercarriage can handle. This is where properly designed armor comes into play. Some of these vehicle are lucky enough to still have their OEM skid plates, made of thin, stamped sheet metal. We provide partial and complete kits to cover the vital components exposed to the rugged terrain your advanced 4WD system is able to get you into. Make sure you get back out by protecting the important parts, explained in detail below.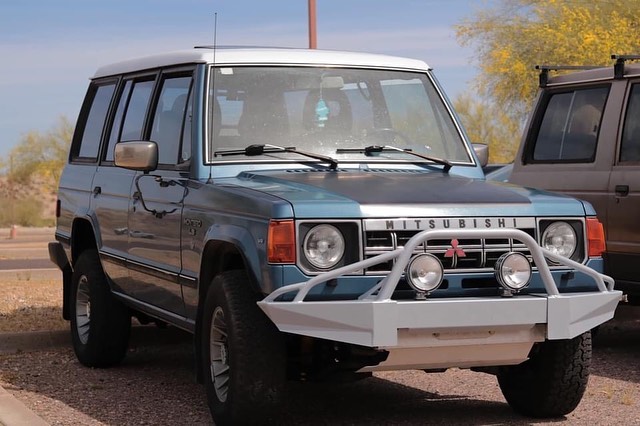 Pacific Coast Blue' in the photo above shows our bumper & skid plates fitted to this MK1

Skid plates are made in small limited quantity runs, we're a small shop and cover all generations of montero so we have to cycle our production runs to ensure everyone gets parts in a reasonable time-frame, We incentivize people to pre-order so we know how many need to be produced by giving discounts. You also get to secure a set of these quality skids, and at the best possible price. We save on shipping by shipping all at these at the same time and we pass that savings on to you as well.
Package contains:
QTY 1. Front Skid plate* Protects front sway bar, entry to oil pan area, entry to transmission cooler and radiator, comes with winch fair-lead block off plate, pair this with a winch plate and winch kit to complete the front end set up. Ties into differential skid for seamless protection.

QTY 1. Mid, Differential Skid plate Protects the oil pan, differential, front yoke and lowest driveshaft points, ties into transmission skid for seamless protection.

QTY 1. Transmission Skid Plate Protects the transmission oil pan, cooler lines, front driveshaft and exhaust. Protects federal or primary catalytic converter from theft.

QTY 1. Fuel Tank Plate Kit Protects the fuel tank with full edge to edge coverage and wrap around front and back designs with stainless steel stand off brackets designed to divert force and retain fuel capacity. Prevents dents in the fuel tank that can cause stalling of the engine or loss of fuel capacity.

Yes that's FOUR skid plates for your Mitsubishi Montero

*all front skid plates now come with optional winch fairlead block off blank plate.


Skid plates are such a drastic improvement for your Montero when getting off-road, these skids armor you up for all of the terrain to come with a factory like fit, but hardcore protection. ADD strives to make each part's fit and finish above and beyond what the factory parts offered. Our Steel skids provide enough protection to make your way through the toughest trails on Earth.
Installation
is simple and uses factory hardware for almost every mounting point excluding the rear transmission mounting holes.
If your hardware is missing,
replacement hardware is available at any hardware or home repair store. Front two bolts are M10x1.25 and the rears are all M8x1.25. The fuel tank skid comes with the required mounting hardware.
ADHD is a product line of parts selected for a factory chassis rig that can tame the toughest trails in America. The ADHD prefix on a part indicates it was designed for optimal off-road use, that means it's an off-road part, designed for rigs we build and use hard. Everything is a compromise when it comes to vehicle modifications and extreme levels of off-roading. Adding flexibility and changing ride characteristics like vehicle weight or the mechanical function of your vehicle is your own adventure, do your research before you go.

Options available are:
2 or 4 door chassis. Our 2 door skids cover the 4 cyl and v6 models.

ADHD Cold Rolled Black Zinc Powder Coated Steel. These heady duty skids are in the HD line of our products. Designed for hardcore off-roaders, expedition rigs and overland vehicles with increased weight, thus needing a higher tensile strength sheet of steel under their belly.

Mitsubishi Montero & Dodge Raider Gen 1 - American Made 4 Piece Skid Plate Armor Full Set
$700.00

$650.00

Ex Tax: $650.00
Related Products
Tags: Gen 2, Gen 2.5, Package Deals, Armor, ADD Exclusive, sale,