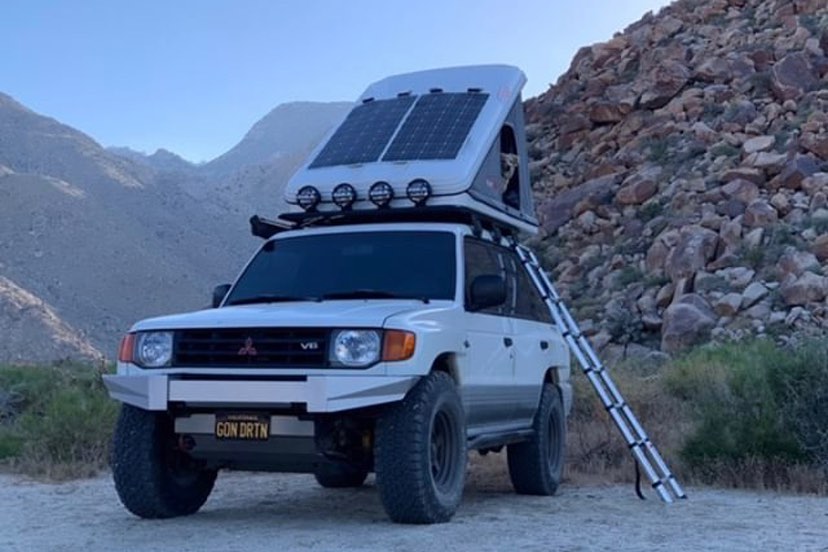 We've received at least one email a week for the last two years asking when we'll make another budget bumper...
It's here!
The Modular bumper system has evolved from our series 1 Budget Builder's Bumpers (say that three times fast?) . The original design was a simple box tube and plate design with bent tubing for upper protection. The intention was bumper you could use as-is, or, weld filler panels on the top, ends and bottom, light mount tabs, shackle mounts, it was the basic skeleton of a bumper so we could make to make it function while keeping the cost to you at a minimum.

Due to an error with the shipping company we had been using during version 1, and in the infancy of our company, we managed to send out a couple dozen or more of these in a cost effective manner. Then... one day, after sending out all pending orders we got a call saying the cost was wrong and going forward, it was, well, too expensive... dimensional weight, actual weight, all kinds of fees... and with that, it was time to end the Budget Builder's Bumper V1... Without us being able to reduce the size of the original design we had to discontinue the unit,.. there's been a lot of demand for the bumper in the last year, but there was no way to make that bumper easy and cost effective to ship.

But we pressed on regardless, now we've got one bumper to cover two trucks...
Narrow body truck? Wide body truck? Doesnt matter, this bumper fits them all.
ThIs production bumper is all laser cut sheet metal, You can see our skid plates for the quality and precision we provide when it comes to metal working. The corners weld to the center section at your desired width and depth, making it possible for us to provide one bumper that fits a variety of Gen 2's. But, the corner pieces will only be ornamental until welded to the center-section by an adequate machine. So... If you're handy with a welder, you can weld the two plates together once you've lined it all up to fit your body lines. We also did it this way because we understand trucks get bumped and beat, accidents happen.. Our modular design allows you some alignment via innovative mounting flanges.
Not a welder? Not a problem... take your modular bumper kit to your local fabricator or body shop, ask them to weld it up after fitting it to your truck, maybe add some tube work or a simple trail gear stinger (Google 303413-KIT) to protect the Radiator, or side pieces for the fenders and corner lights, maybe a light bar, it's all your call, but you're supporting local fabricators and we think that's cool. We add all kinds of stuff to anything we buy and we think you should too!
Price includes shipping in the US.

Photos are customer examples of completed kits. Kit comes un-assembled.
Please read carefully!
ADHD - Adventure Driven Hardcore Design Mitsubishi Montero Plate Steel Modular Bumper System
Related Products
Tags: Gen 2, Gen 2.5, Armor, ADD Exclusive, preorder