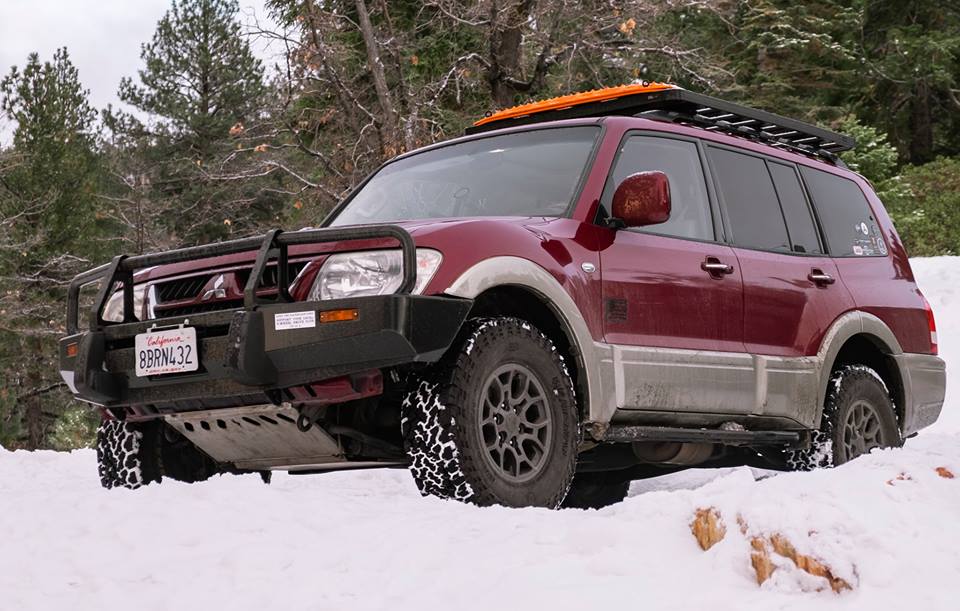 You like bangers? You like Mash?? How about some BANGERS AN MASH MATE?
You get THREE skidplates made of 3.5mm American Stainless Steel for your Gen 3 Montero and save dollars!
Package contains:
Gen 3 Front Stainless Skid plate
Gen 3 Differential (mid) Stainless Skid plate
Gen 3 Transmission Stainless Skid Plate (the missing link)

Installation is simple and uses factory hardware, (excluding transmission skid, drilling hole is required in cross member.) if your hardware is missing, replacement hardware is available at any hardware or home repair store. So simple and yet such a drastic improvement in a Montero, these skids will armor you up for all of the terrain to come. Factory like fit, but hardcore protection.

SAE 304 stainless steel
SAE 304 stainless steel also known as A2 stainless steel (not the same as A2 tool steel) or commercially as 18/10 or 18/8 stainless steel, European norm 1.4301, is the most common stainless steel. The steel contains both chromium (between 18-20%) and nickel (between 8-10.5%)[1] metals as the main non-iron constituents. It is an austenitic stainless steel. It is less electrically and thermally conductive than carbon steel and is essentially non-magnetic. It has a higher corrosion resistance than regular steel and is widely used because of the ease in which it is formed into various shapes.[2]
The composition was developed by W. H. Hatfield at Firth-Vickers in 1924 and was marketed under the trade name "Staybrite 18/8".[3]. The Japanese equivalent grade of this material is SUS304. [4].
Corrosion resistance
304 stainless steel has excellent resistance to a wide range of atmospheric environments and many corrosive media. It is subject to pitting and crevice corrosion in warm chloride environments and to stress corrosion cracking above about 60 °C. It is considered resistant to potable water with up to about 200 mg/L chlorides at ambient temperatures, reducing to about 150 mg/L at 60 °C.

ADHD - Adventure Driven Hardcore Design | Gen 3 Stainless Steel Skidplate - Bangers and Mash Party Platter
Tags: Skidplate, Gen 3, Package Deals, sale